News
Zayn Malik scolds girlfriend Gigi Hadid after sleepy movie sessions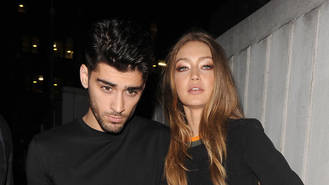 Zayn Malik is left frustrated by Gigi Hadid falling asleep when they watch movies together.
The former One Direction star has a hugely busy career thanks to his solo music offerings, while Gigi is one of the most sought-after models in her industry.
Their jet-setting lifestyles mean that when Zayn and Gigi get together, they enjoy cuddling up and relaxing, or going to the cinema. But the chilled out evenings mean Gigi often struggles to keep her eyes open - much to the annoyance of her popstar beau.
"When I'm in LA I mostly stay in because it's my time off and I like being with my boyfriend and doing art and cooking," Gigi told British Vogue magazine. "We like late-night movies and we order from this amazing place that does lattes and gingerbread cookies. I need coffee to stay up.
"I'm always like, 'Babe, let's go to a movie.' Then I fall asleep halfway through and he's like, 'You've seen the first half of every movie out there and you have no idea how any of them end.'"
Gigi has made a name for herself in the fashion industry with her stunning looks and unique runway walk. She also hit headlines in 2015, when she walked in Tommy Hilfiger's runway show and displayed a noticeably slimmer figure. However, she took to Instagram to share an open letter in which she revealed the medication she takes for thyroid condition Hashimoto's disease was responsible for her weight loss, and was stunned by the reaction the post received.
"The response was crazy. From Victoria's Secret Angels to my friends who are considered plus size, everyone texted me and said they appreciated me saying something," she told the publication.
"The world puts so much pressure on fashion, then judges models for succumbing to that pressure."
Source: www.msn.com
Added automatically
629 views