News
Pharrell Williams and wife Helen welcome triplets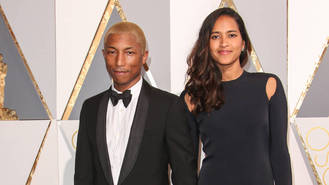 Pharrell Williams' wife Helen Lasichanh has reportedly given birth to triplets.
The American singer-songwriter and his fashion designer wife confirmed they were expecting a baby in September (16), a sibling for their eight-year-old son Rocket Ayer.
Now, to the surprise of his fans, the musician's representative has confirmed to Vanity Fair that Helen welcomed three babies earlier this month (Jan17).
While the spokesperson declined to share the babies' names or sexes, Helen and the newborns are said to be "healthy and happy."
And while it is not known what monikers will be bestowed on the new additions, Pharrell will no doubt have some creative ideas in mind. In 2014, Pharrell opened up about the meaning of his son's name, revealing he and his wife wanted to give their little boy a very strong name.
"In the same way the Indians named their children after a force or animal or element, we named him after a man-made machine that was meant to go up, meant to ascend," he told U.S. talk show host Oprah Winfrey.
"Metaphorically, it was because of, you know, Stevie Wonder's Rocket Love, Elton John's Rocket Man and Herbie Hancock's Rocket. All of my favourite musicians. And his middle name is not Man. It's Ayer after Roy Ayers."
The new babies certainly make for a busy 2017 for the Happy singer. After he walked in Karl Lagerfeld's Chanel fashion show in December (16), it was announced that he would be the first-ever man to model in a Chanel handbag campaign, alongside Cara Delevingne and Kristen Stewart.
Pharrell has also been popping up on the awards show circuit too, having been involved as a producer on the Academy Award-nominated movie Hidden Figures. The movie nabbed the best ensemble award at the Screen Actors Guild Awards on Sunday (29Jan17), and is hotly tipped to be in the running for an Oscar as well.
Source: www.msn.com
Added automatically
659 views