News
Robin Thicke has only seen son once since losing custody - report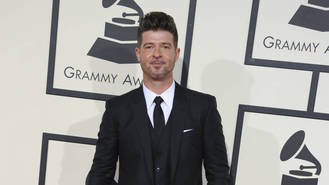 Robin Thicke has reportedly only seen son Julian once since he lost temporary custody of the six-year-old.
The Blurred Lines hitmaker and ex-wife Paula Patton had a tense courtroom showdown last Thursday (26Jan17) after the actress filed a domestic violence restraining order request, with the 39-year-old singer then told he must stay at least 100 yards away from his son, his ex and his former mother-in-law Joyce Patton.
The 41-year-old actress was given sole legal and physical custody of Julian until the next hearing scheduled for 24 February (17), with supervised visitation granted for Robin three days a week at a neutral location.
However, sources close to the situation have revealed to People.com that while Robin spent time with Julian on Friday (27Jan17), he had the chance to have another day with his little boy on Saturday but declined.
"He did not exercise his right to spend time with his son and the monitor on Saturday, citing a business meeting," the insider told the website. "However, Paula offered alternate times that Julian could see Robin with the monitor that weekend, but he declined all visitation. These are the actions of a father who claimed he wanted to spend time with his son."
But a source in Robin's camp insists that the singer is "focused" on his son, and is being unfairly targeted by his former spouse.
"Paula keeps trying to bury him, and this is a concerted effort to prejudice the public against him. He has taken no such campaign against her," the Robin insider argued. "He's taking this extremely seriously, and it's unfortunate and very difficult when you're on the receiving end of a campaign of negativity."
Paula and Robin initially split in 2014 and their divorce was finalised in 2015. Things were amicable at the beginning, but took a turn at the start of 2017, when Paula accused the singer of domestic violence against their son.
Her claims came after Julian told his mother and teachers at his school that Robin had spanked him, with the school reporting the incident to officials at the Los Angeles County Department of Children and Family Services, who opened an investigation.
Robin responded by confessing to spanking his son, stating: "On a very rare occasion and only as a last resort, I will use light spanking, but it is consistent with the law - open hand on the butt. This is the type of discipline to which Paula and I agreed during our marriage."
The actress then filed a declaration in support of her domestic violence restraining order, claiming the singer hit her with a closed fist and pushed her to the ground during a fight at the 2013 Cannes Film Festival in France.
The Warcraft star also alleged the singer threatened multiple times to "bash my f**king head in", according to the papers obtained by TMZ.
Source: www.msn.com
Added automatically
736 views