News
Azealia Banks ends Rihanna feud by posting the singer's telephone number online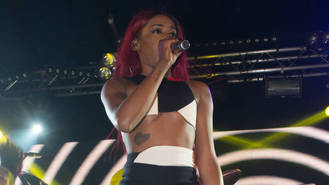 Banks wouldn't let the feud lie.

She then shared Rihanna's phone number and added: "Rihanna plz stop being stupid and read some books. I beg you."
This is the rapper's latest celebrity feud - she has also taken aim at Iggy Azalea, Russell Crowe and Zayn Malik.
In October (16), Banks claimed actor Crowe called her the n-word and choked her before carrying her out of his Beverly Hilton hotel suite during a dinner party.
A source close to Crowe told Us Weekly she was the one yelling the n-word at everyone else, adding, "Russell behaved like a hero. He acted in defence of his guests and removed her from his suite by putting her in a bear hug and picking her up."
Source: www.msn.com
Added automatically
678 views