News
Ed Sheeran regrets giving Tori Kelly his song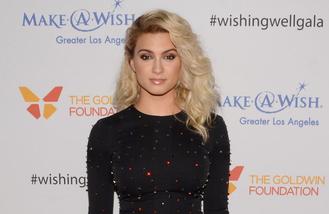 Ed Sheeran says the only song he wishes he kept for himself is one he wrote for Tori Kelly's album.
The 'Thinking Out Loud' hitmaker penned 'I Was Made For Loving You' on the 24-year-old beauty's LP 'Unbreakable Smile' and has admitted he wishes he didn't let it go as it is so "beautiful".
Asked on New York's Fresh 102.7, if he has regretted giving away any of his songs, he said: "The one on Tori Kelly's album, 'I Was Made For Loving You'. I remember writing that with Tori and saying before, 'Whatever we write, definitely for your album, don't worry about it,' and remember halfway through being like, 'Aghhh, God I wish I was keeping this'.
"It is a really beautiful song and it turned out so, so well.
"But that's one song that I wish I'd kept."
It comes after the 'Castle on the Hill' hitmaker admitted Just Bieber's 'Love Yourself' "wouldn't have made it" onto his new album.
The 25-year-old singer gave the pop sensation the track, which features on his 2015 LP 'Purpose', because it wasn't good enough to be featured on his own upcoming record '÷'.
He recently said : "That was a song I had written for '÷'. It just wouldn't have made it. And then Justin took it and did his thing on it, and released it as a single and made it what it is.
"So going from a song that would have never been released to [being] the biggest song of last year - it just became Billboard's #1 of 2016 of the whole year, and [was] nominated for Song of the Year at the Grammys - it just shows you that you shouldn't always write stuff off."
Ed's third studio album is slated for release on March 3.
Source: www.msn.com
Added automatically
621 views