News
Russell Simmons renounces decades-long friendship with Donald Trump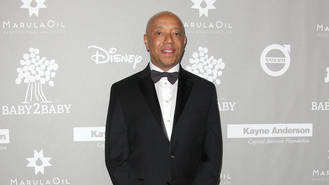 Music mogul Russell Simmons no longer considers Donald Trump a friend.
The Def Jam Recordings co-founder has been a huge critic of the reality TV star-turned-Leader of the Free World ever since Trump first began campaigning for the White House in 2015.
"Not anymore," Simmons declares to PageSix when asked if he still views Trump as a friend. "I'm sure he doesn't consider me a friend after some of the statements I've made."
Russell's decades-long friendship with Donald, who hosted U.S. television competition show The Apprentice for 14 seasons, abruptly ended in June, 2015, when the hip hop legend told numerous media outlets he'd prefer to see another reality TV star run the country.
"We haven't been friends since the day he announced that (his run for presidency) and I said, 'I'd rather Kim Kardashian be President', so he called the office and that was the end of our friendship," Simmons recalls, noting he refused to talk it out with Trump when the real estate mogul phoned. "I didn't pick the phone up. I said (to my assistant), 'It's on video! Tell him it's on video!' And we didn't speak after that."
Russell and fellow New York City native Donald were close pals before calling it quits on their friendship. The rap icon recalls spending "every weekend" with the real estate tycoon at the height of their relationship.
"He wrote the foreword to my first two books - I know him very well," Simmons says, noting he was present when Trump began romancing his current wife, First Lady Melania Trump, in 1998.
"I was with him on his first date with Melania," Russell recalls.
Trump has stirred the ire of millions thanks to his divisive statements against immigrants, Latinos, and women. Although Russell refuses to dish on details regarding the character of his former friend, the hip hop mogul insists Donald is unfit to be the U.S. leader.
"All of our friends have issues, I have issues," Simmons shares. "I accept people as they are as long as they're not running for president."
Russell plans to continue fighting Donald's presidency by spearheading a "resistance" to the billionaire's latest executive order, which bans immigrants and refugees from seven Muslim-majority countries from entering the United States.
Source: www.msn.com
Added automatically
630 views