News
Bradley Walsh to record second album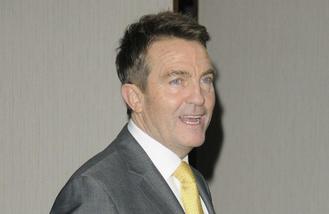 Bradley Walsh has inked a new deal with Sony Music CMG to release a second album after selling more LPs than Zayn Malik.
The 56-year-old TV presenter's debut LP 'Chasing Dreams' beat the former One Direction star's record sales for his first solo album 'Mind of Mine' last year, and he has now reportedly signed a contract, which could see him release two more records and hit the the road for a UK tour.
An insider told The Sun newspaper: "Bradley's album surpassed all expectations and he's now a key focus for the label in 2017.
"Sony have signed him up for another album and don't want to waste any time getting it out, as well as putting him on stages around the UK.
"He has proven there is an enormous market for his swing covers and they intend to capitalise on it.
"Discussions have even taken place about a third album at some point too.
"They know what works and he is already picking out songs for the second record and arranging studio time."
It comes after the 'Chase' host said he'd happily give Zayn, 24, a few pointers if he asked.
He joked: "I haven't seen Zayn yet but I don't want him to be too upset, you know, it's tough for these young artists.
"You know these young artists come along and they see an old stage entertainer whose played Watford Trades and Labour Club many times, it's very difficult for the youngsters to have any grounding and breeding in the industry. So yeah, if he wants any tips on how to sing a tune..."
Bradley also teased that he is plotting a collaboration with grime star Stormzy - whose real name is Michael Omari - after they bonded at the BRIT Awards last week.
He laughed: "My mate Stormzy, that. We hang together. Do a bit of grime. What else do we do, grunge? No, just grime.
"Definitely grime. Bruno Mars, he's here, he's my mate.
"We have something in common. He's from Hawaii. I like Hawaiian pizza. That's quite cool. Other than that, I don't know why I'm here.
"Me and Stormzy we are going to do an album. We're gonna do an album of Nelson Riddle arrangements in grime form. It's gonna be called 'Griddle'. We're looking forward to it, we're gonna collaborate. "
Source: www.msn.com
Added automatically
602 views