News
Liam Gallagher pinches Pete Doherty's bassist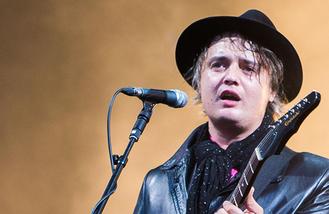 Liam Gallagher has swiped Pete Doherty's bassist.
The former Oasis frontman is in rehearsals for his forthcoming solo shows and The Libertines frontman is stressing out as Drew McConnell has left the band in the lurch to join Liam, 44, on the road.
According to the Daily Star, Pete, 38, said: "Stressification on the band front, Drew playing bass guitar for Liam Gallagher's new tour."
The pair - who have been at loggerheads for years - have another mutual person in common as they both have children by 90s indie rocker Lisa Moorish.
The 'Live Forever' hitmaker has 19-year-old daughter Molly with the former Kill City singer and Pete has 13-year-old son Astile.
Lisa previously said that Pete is a better father to Liam's daughter than he is.
Speaking in 2009, when Oasis split up after Liam's older sibling and rival Noel, 49, quit the band after a backstage bust-up, Lisa said: "Pete's a very good father. He wasn't very hands-on when Astile was younger but now he's very involved. We do a lot of things together: long walks, trips to football, to the pub to play pool with the children.
"He is very much his father and Molly has a great relationship with him too. He told her, 'I'm your stepdad and there for you.' I love him for that. She feels security from him, which is nice as, emotionally, she doesn't get that from her own dad."
Liam and Pete have feuded several times over the years, one of the most notable though was At V Festival in 2005.
Liam labelled the Babyshambles star "one big c***" on stage after he didn't turn up for his support slot with Oasis at the Rose Bowl in Southampton, South West England.
He said on stage at the event held in Chelmsford, Essex: "It's good to see Pete Doherty turned up. One big c***."
Source: www.msn.com
Added automatically
791 views