News
Nate Dogg's son arrested on felony drug charges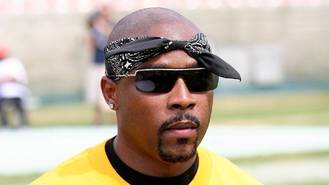 Nate Dogg's son Naijiel Hale is facing life in prison after he was arrested on felony drug charges following a police sting.
Authorities reveal Hale, who plays American football for Montana State University, was caught with teammate Darren Gardenhire trying to sell a stash of Xanax anxiety pills to undercover officers in February (17).
Hale, 21, was also targeted in another set-up, in which he allegedly made a drug deal at his home in Bozeman, and then had an associate complete the delivery of the prescription drugs.
He and Gardenhire, 20, were both taken into custody on Wednesday (05Apr17).
Hale has been charged with two counts of felony distribution of dangerous drugs, as well as possession of dangerous drugs, while Gardenhire has been slapped with one count of felony distribution of dangerous drugs, and a third person, fellow student Christopher Flanagan, 20, is facing felonies for possession with intent to distribute dangerous drugs and possession of property subject to criminal forfeiture, according to bozemandailychronicle.com.
All three appeared in Gallatin County Justice Court on Thursday (06Apr17), when bail was set at $25,000 (£20,000) for Hale, and $20,000 (£16,000) for the two other suspects.
The distribution of dangerous drugs felony charges each carry maximum sentences of life in prison.
Hale and Gardenhire, both defensive backs for their school's Montana State Bobcats, have been suspended from the team indefinitely. They previously played together while attending the University of Washington, but Hale was kicked off the team in 2014, two years before Gardenhire left.
Hale's father, Regulate hitmaker Nate Dogg, real name Nathaniel Hale, died of stroke complications in 2011.
Source: www.msn.com
Added automatically
620 views