News
Elle King 'skips out on wedding'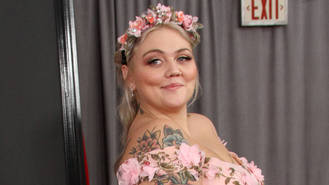 Elle King has reportedly "skipped out on her wedding" to her fiance Andrew 'Fergie' Ferguson.
The Ex's and Oh's star became engaged to Andrew 'Fergie' Ferguson in February, 2016. In May (16), the 27-year-old revealed she had set a wedding date, but it is now unclear if the nuptials are going ahead.
"Skipped out on my wedding," she wrote on Instagram alongside a video of her on stage with Eagles of Death Metal at the Paramount Theatre on Saturday (15Apr17) in Seattle, Washington. "I married Rock&Roll instead so I hopped on tour with EAGLES OF F**KING DEATH METAL."
According to E! News, King was set to wed Ferguson in New York on Saturday (15Apr17). Ferguson has yet to comment on the breakup rumours, but King has been hinting at a split on social media recently.
"Gotta say... no matter how heartbreaking one day may be, it's hard to not smile in this California sunshine," she wrote on Instagram last month (Mar17).
"All my single ladies," she added with a picture of her and two friends.
Last year (16), Elle, who is the daughter of actor Rob Schneider, admitted plans for the couple's "carnival and rock and roll circus" themed wedding were being being handled by Ferguson and her mum, former model London King, because she didn't have a lot of time to organise it.
"We pretty much just want to have a party," she told People magazine in May. "I've always been a barefoot, flowers-in-my-hair girl, so I dream of a flowy dress and being around friends and family."
"Everybody dreams about their wedding day, I just haven't really had a lot of time to put a lot of thought into it," she added, "but things approach so quickly. I'll just have Fergie plan the whole thing (or) my mom is gonna deal with it, and I'll show up!"
Source: www.msn.com
Added by AutoAdmin
324 views