News
Halsey and Charli XCX live on the same street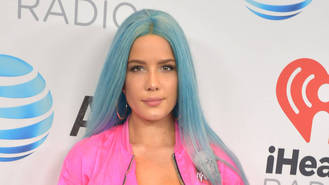 Tourmates and best pals Halsey and Charli XCX have become neighbours in the Hollywood Hills.
The two singers, who recently teamed up at the Lollapalooza festival to belt out Spice Girls anthem Wannabe, only realised they live close to each other when Charli attended a birthday party Halsey threw for producer Benny Blanco.
Arriving at the home, which is on the same street, the Brit realised she'd checked out Halsey's new pad when she was looking for a Los Angeles home last year (16), but she settled on another place nearby.
"I'd just gotten the keys to the house - it didn't even have furniture," Halsey recalls of the party, which was shut down by police, in a new Billboard interview.
"I was doing something bad that I can't elaborate on and was massively bummed when the music stopped," XCX adds.
The two friends and neighbours are planning to have a merry old time on tour when they hit the road this autumn (17), insisting they don't have clean-cut pop star images to protect.
"The polished pop star thing is kind of dead," Charli says, prompting her pal to add, "Part of our brand is 'hot mess'. Being authentic: 'Yeah, it's 5 a.m., and I'm wasted and I'm f**king doing that'."
Halsey admits she has no problems if she looks "like s**t on a certain day", telling the publication, "OK, I'm drunk now."
But she's worried about how far she'll take the wildness on tour with Charli.
"I'm scared, because I've been sober on every tour I've ever done, and I'm not going to be with Charli there," she smiles.
"I'm neurotic. I had a really bad experience. We did Madison Square Garden and it was a sold out show, the biggest of my career, and three songs in, everything stopped: tracks, lights, video. Everything failed, because there was one wire unplugged... If I was f**ked up when that happened, I don't know what I would've done."
Source: www.msn.com
Added automatically
458 views