News
Demi Lovato's parents kept her sister away during drug troubles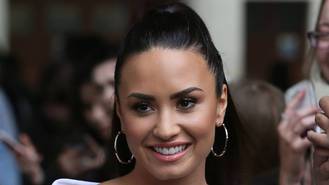 Pop star Demi Lovato was banned from spending time with her little sister at the height of her drink and drug troubles.
The Cool for the Summer hitmaker struggled with addiction issues during her late teens, and as her behaviour spiralled out of control, her mum Dianna and stepfather Eddie De La Garza decided it was best to keep Demi's half-sister, Desperate Housewives child star Madison De La Garza, out of her reach.
"I knew that I had a lot of life ahead of me," she tells U.K. talk show host Jonathan Ross, "but one of the main reasons of getting sober was so that I could be around my little sister, because my mum and dad (said I couldn't be around her) if I was doing stuff."
Demi, now 25, also realised she couldn't go on living her life on the edge after her family and friends staged one final intervention and made it clear they were abandoning her, after previously only threatening to cut off all contact with the singer.
"The final one (intervention), everyone was like, 'We are no longer going to leave, we are leaving,'" she recalls. "That was the moment when I thought, 'OK, I really need to get help and get sober.' This time I knew... I had hit rock bottom and I just needed to do this for myself."
Demi sought help at a rehabilitation centre and has now been clean and sober for five-and-a-half years. The bipolar star, who also overcame eating disorders and self-harming issues, has since invested her money into the CAST rehab facilities which helped her beat her demons, and co-owns one of the venues in Los Angeles, where she is dedicated to helping others struggling with similar addiction problems.
"I went through some tough times and went to treatment for some struggles that I had and now I've come out the other side," she shares. "I use my stories to help others and inspire them to get the help they need."
Expressing her gratitude to her loved ones for forcing her to get clean, she continues, "I had family and really close friends and my manager, they all were by my side through everything. I wouldn't be here without them. My fans too, I feel they gave me a reason to live and I'm forever grateful."
Demi's candid chat, which will air in the U.K. on Saturday (30Sep17), comes three weeks after she admitted staying sober is a daily "battle" as she was honoured with the Spirit of Sobriety award at Los Angeles' Brent Shapiro Foundation for Drug Prevention Summer Spectacular.
Source: www.msn.com
Added automatically
557 views