News
Steven Tyler suffered seizure after Brazil gig - report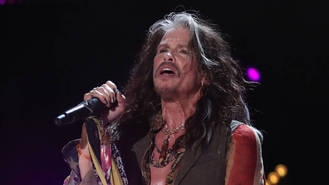 Steven Tyler reportedly suffered a seizure shortly after Aerosmith's gig in Sao Paulo, Brazil on Monday night (25Sep17).
The rockers have scrapped a series of South American concerts after the singer was forced to fly back to the U.S. due to "unexpected medical issues", but there have been no official reports about his condition.
Now a source tells the Boston Globe that Tyler suffered a seizure backstage on Monday.
The report has yet to be confirmed, but a message to fans was posted on Aerosmith's official website and social media pages as news of the star's hospitalisation broke on Tuesday (26Sep17).
"Unfortunately, due to unexpected medical issues, lead singer, Steven Tyler, is seeking immediate care and has been advised by his doctors that he cannot travel or perform at this time," the statement read. "Therefore, the last four shows of the South American tour will be canceled... Steven is expected to make a full recovery. With proper rest and treatment he will be back on his feet soon rocking the world. Thank you all for your understanding and support."
The rocker also posted a personal message within the statement, which reads: "To everybody in South America - Brazil, Chile, Argentina and Mexico - I'm very sorry and feel like I've let you down.
"I won't be able to continue the last four shows of this tour. I flew back to the U.S. on doctor's orders last night after the show in Sao Paulo. Please not to worry. I am not in a life-threatening condition, but I need to deal with this right away and get some rest and medical care immediately in order to sustain and maintain my future performances. I promise I'll be back.
"Unfortunately, health does not wait and it's something even I can't schedule around our shows. As they say, 'We humans make plans, and God laughs'. I love you all and will be back with you soon."
Tyler and his Aerosmith bandmates have been hampered with medical issues in recent years - bassist Tom Hamilton battled throat and tongue cancer, while guitarist Joe Perry collapsed on stage during a Hollywood Vampires gig last year (16), and Tyler has also struggled with foot surgeries.
The band is currently on a farewell world tour.
Source: www.msn.com
Added automatically
551 views