News
Demi Lovato: 'I won't reveal who Tell Me You Love Me is about'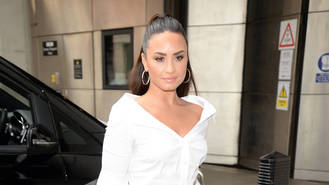 Demi Lovato doesn't want to reveal who her song Tell Me You Love Me is about, because she'd rather keep it to herself.
The Cool for the Summer singer released the love song as a promotional single from her album of the same name, which is released on Friday (29Sep17). And although the record is her most personal to date, Demi won't be revealing who the songs are specifically inspired by any time soon.
"I would love to say who I'm singing about but I like to keep some of that stuff personal to myself, I'm kind of a private person," Demi told Australian TV show Sunrise. "But I do lay a lot out on the line when I do an interview, or whenever I perform and write my lyrics."
She doesn't hold back in writing songs about love, sex, and her past battles with substance abuse, with the ballad You Don't Do It for Me Anymore about her struggles with addiction.
The 25-year-old recently told Noisey that she is able to be so honest on this album because she has become more independent after coming out of a long relationship with actor Wilmer Valderrama.
"I was afraid to write songs about other people, because I didn't want anyone to get offended," she explained. "When you're in a relationship, you don't want to write a song about somebody that you're not in a relationship with - you don't want to hurt that person's feelings."
She has written two songs, Ruin the Friendship and Only Forever, about the same person - not Wilmer. In them, she decides she wants to take their friendship to a romantic level.
She even sent a copy of the tune to the song's subject, and it turned out that person had written a track about their feelings too.
"Any time you send a song about the person, to the person - it's ballsy. It's like, 'Hey! Here's my feelings for you!'" she confessed. "That person was like, 'That's an incredible song.' And I was like, 'Yeah, well. It's like, Hel-lo!'...They had their reasons. But, yeah."
Source: www.msn.com
Added automatically
641 views