News
Lil Nas X effortlessly mocks conspiracy theorist claiming he is a 'plant' to spread 'LGBT+ agenda'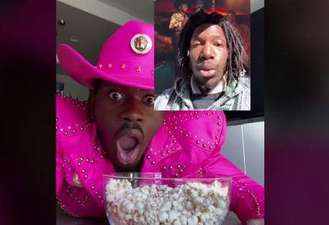 Lil Nas X has hit back at a conspiracy theory video that claims his success is based on pushing an "LGBT+ agenda" in mainstream culture.
The rapper rose to fame in early 2019 when his country-rap crossover song 'Old Town Road' became a viral hit and went on to become the biggest song of the year thanks to a remix featuring country singer Billy Ray Cyrus.
Later that year, Nas X also came out publicly as gay, becoming one of the few public LGBT+ artists in rap music.
However, not everyone has been accepting of his sexuality and the rapper caught wind earlier this week of a TikTok video that claimed he had been set up by the music industry.
"You remember when 'Old Town Road' first came out, right? It literally went viral, everybody was playing his song," the man in the video said.
"Not only that, he even got Billy Ray Cyrus to get on his song. If you ask me, that's a red flag right there.
"Not because Billy Ray Cyrus joined his song but because it blew up so fast, which is literally screaming, 'industry plant.'"
An industry plant is an artist with major label backing who is dishonestly marketed as an independent organic success with a genuine following.
The man continued by arguing that Nas X had not just been set up by the industry for chart success but also to push LGBT+ culture to a mainstream audience.
Noting a ring worn by the rapper in the 'Old Town Road' video, he said: "One of my supporters pointed out when people get this starring, they either die or they play a part in an agenda."
Then, pointing to Nas X's flamboyant pink Grammys outfit from 2020, he added: "Probably like a few months later, they start turning him into this. This is not at his own will."
Unimpressed, the rapper responded with his own TikTok, in which he mocked the video while eating popcorn and dancing in his Grammys outfit, adding the caption: "oh my god i had no idea."
You can find the response below:
It's worth noting that the same TikTok user has also claimed that Megan Thee Stallion and Cardi B are pushing an agenda to "manipulate and sexualise women", and that DaBaby might have sacrificed his own dad...
Source: msn.com
Added automatically
127 views