News
Viral virtual quizmaster from Darwen to hold first quiz in person tonight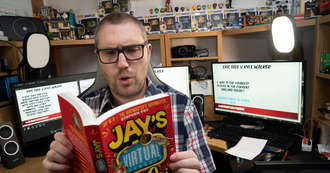 A man from Darwen whose virtual quizzes over the pandemic went viral is doing his first one in person tonight.
Jay Flynn's been hosting weekly quizzes online which have been watched by tens of thousands of people from across the world and as far as Australia.
At one point, there were 180,000 households around half a million people playing, securing a Guiness World Record.
He's also raised over a million pound for various charities and has been awarded an MBE for his contribution over lockdown.
Before being a pub landlord & having to give up pub start of lockdown Jay from Lancashire spent some time homeless on the streets of London which greatly affected his mental health.
Now, his viral quizzes have reached 14 million views and featured celebrities hosting rounds, posing questions and performing in breaks such as Gary Barlow, Stephen Fry, and Rick Astley.
Tonight he'll play host to a hundred people in his local town.
Jay said it'll be a very special quiz: "It's not even about the quiz tonight for me, it's about being able to see just a small fraction of the social media communities that we've got and to be able to look these people in the eye and just quite simply on behalf of all the charities we've supported just say thank you.
"It's going to get emotional tonight I can feel it already.
"This is my bread and butter, hosting a pub quiz in front of people. It's a little bit of normality as well for everyone, not just for me but for everyone coming along to be able to sit in a venue with friends and family and play a proper quiz."
Jay told us about one of the maddest moments of his rollercoaster year so far: "So I pop up (on the quiz) and there's Rick Astley staring back at me going 'Hi Jay how are you? Thanks for inviting me'...and I'm thinking...really? This is now Rick Astley who's performing on a quiz of mine and we're going to be recording him live?!"
"We've got hardcore fans in Canada and people getting up at 5am in Australia to play along with the quiz with their family back here in the UK and I still now 15 months on I don't think it's actually hit me what I've done."
Source: msn.com
Added automatically
247 views