News
'Cancelled' Mumford guitarist slams woke mob of 'tens of thousands' who forced him to quit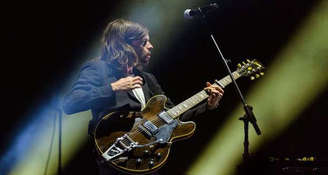 Speaking to Radio 4's Today Programme, former lead guitarist in the multi-award-winning folk-rock band Mumford & Sons explained how a ruthless left-wing Twitter cancel culture mob forced him to leave his band after their abuse became too much to bear. Winston Marshall triggered a Twitter storm back in March after tweeting his praise for 'Unmasked', a book written by American conservative journalist Andy Ngo which investigates Antifa, the far-left US-based group which Mr Ngo believes is trying to undermine democracy.
Mr Marshall told Radio 4: "There was a lot of very horrible negativity and a lot of nonsense and lies.
"I could take [it] to an extent but what is unpleasant about it is they went for my bandmates, they went for my friends.
"And that is not fair on them because it has got nothing to do with them but in the public eye we were a unity.
"That I suppose is what these internet mobs do, they go for all those people around you."
The Banjoist went on to explain the experience what was "so troubling for me" about the experience was "to see my friends getting dragged under the bus".
He explained how this was a major reason which forced him to leave the band because "it was not fair on them".
The former band member was then asked by host Mishal Husain how relentless the abuse was.
He replied: "At the time it was a weekend period where there were thousands, tens of thousands of retweets.
"It became quite a big story, particularly in America.
"And it felt like very distracting, unwanted attention and possibly damaging for the brand of the band.
"That is why I decided I should let them be - regret this situation even came about.
"I felt my integrity being knawed at and this was the only decision I could make."
Despite the chaos that ensued from the woke mob Mr Marshall said he is at "peace" with his beliefs and will work towards a world that encourages "freedom of speech" and "the pursuit of truth."
He also explained how this brush with cancel culture has not changed his view on life and views and will continue to work with integrating Hong Konger's into Britain who are forced out of their country by a growing takeover by China.
Mr Marshall added: "I want to be able to speak without those around me, those I love getting in trouble for that.
"I hope to speak freely and that is a big part of the decision I made."
Source: msn.com
Added automatically
167 views