News
Charles Connor, drummer for Little Richard and James Brown who 'put funk into the rhythm' – obituary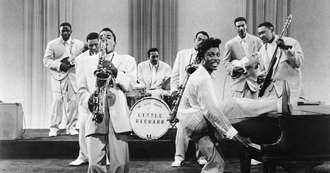 Charles Connor, who has died aged 86, was a drummer for Little Richard and other musical giants – including James Brown, who declared that Connor was the first drummer "to put funk into the rhythm".
He was born in New Orleans on January 14 1935; his father was a merchant seaman from the Dominican Republic, while his mother was from Louisiana. Young Charles's first musical inspirations were the calypso songs his father sang, as well as the marching bands playing Dixieland jazz near his home in New Orleans's French Quarter; he later began listening to jazz drummers like Art Blakey, Charles Otis, Gene Krupa, Buddy Rich and Max Roach.
He began playing drums seriously aged 12, and three years later Professor Longhair hired him as a last-minute replacement for the 1950 Mardi Gras in New Orleans. He was recruited for Little Richard's original road band, the Upsetters, when he was 18; as they sometimes played without a bassist, Connor had to modify his style, hitting his bass drum "real hard", he said, to simulate the sound of a double bass.
They appeared in several of the rock'n'roll feature films of that decade, including The Girl Can't Help It with Jayne Mansfield, Don't Knock the Rock and Mister Rock and Roll, and Connor's drumming was the beating heart of a string of hits including Keep a-Knockin', whose 16-bar drum intro – the "flattened out double shuffle" – was later used by Led Zeppelin's John Bonham at the start of the track Rock and Roll on Led Zeppelin IV. Other notable tracks he played in included Ooh! My Soul and She's Got It.
Little Richard had been very clear about the kind of sound he wanted from Connor. He took him to a railway station in Macon, the drummer recalled, and said: " 'Charles, I want you to hear this train pull off.' And so the train pulled off like [makes choo-choo sound] … he said, 'That's the kind of beat I want you to do.'
"I said, 'Richard, that sounds like eighth notes.' He said, 'Well, if that's eighth notes, that's what I want you to play behind me on my fast tunes.' "
The Upsetters toured the US with Little Richard, causing a sensation wherever they played, Connor recalled: "In New York, the white teenagers saw blacks having so much fun that they would dance in the aisles with them! Man, those were heady times."
When Little Richard stepped back from stardom to follow a religious path, Sam Cooke took over the Upsetters, and Connor also toured with the likes of James Brown, Jackie Wilson, Big Joe Turner, Larry Williams and the original Coasters.
In the 1980s he formed a band of his own, Charles Connor's Upsetters, and in 1990 he got back together with Little Richard for the first time in three decades, reunited in 1990 after a hiatus of three decades, performing The Girl Can't Help It in on stage in Malmö.
He later worked as a security guard at the KROQ radio station based in Pasadena. In 2020 he was invited on to talk about his life and career.
Conner received a certificate of special recognition from the US congresswoman Maxine Waters in 1994. In 2008 he published a self-help book, Don't Give Up Your Dreams: You Can Be a Winner Too!, and in 2013, he released an EP, Still Knockin': The Story of a Legendary Drummer.
Charles Connor's first two marriages ended in divorce, and in 1981 he married Zenaida, who he had first met on tour in the Philippines in 1955, after reconnecting with her many years later. She survives him along with their daughter.
Charles Connor, born January 14 1935, died July 31 2021.
Source: msn.com
Added automatically
158 views