News
Nightbirde shares update after emotional appearance on 'America's Got Talent'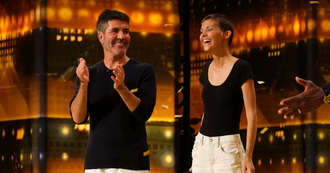 Nightbirde, real name Jane Marczewski, took to social media to talk about her relationship with God since she learned that her cancer has taken a turn for the worse.
In a heartfelt post on Instagram, the singer admitted that her "life with God has been a complicated one." She talked about their friendship and said that she had "misunderstood him" although she is certain that "he's always understood her" even though he "hasn't been necessarily vocal about it."
"I can't really say the complications have been entirely my fault. I think a fair assessment would be that we've each allowed the other to experience at least some degree of disappointment in our friendship," she wrote adding, "It's not easy being friends with people and friendship with God is no different. Life is complicated and friendship with God does not make life less complicated. But as I get older I am realising that I would not have it any other way."
Nightbirde shared that internally she sometimes wishes that "life would be perfect rather than just occasionally good." But she also thinks that it is wrong to "presume that a perfect world would be better than a free world."
Instead, she reminded everyone that "love needs a place to live and grow and prove itself and that can only happen where tragedy is possible." She closed her post, "I have a sign. It hangs in my heart and goes like this: 'Have Mercy On God.' Forgive me if this offends you but I have a better friendship with God because I remain soft-hearted and tender toward him in a life where sometimes nothing makes sense."
Nightbirde shared the update after she announced her exit from "America's Got Talent" earlier this month. She then made a virtual appearance on the talent show last week to thank everyone for their well-wishes and support. Simon Cowell, who gave her the golden buzzer during her audition, held back his tears as he agreed that she made the right decision to withdraw from the competition to prioritise her health amid her cancer battle.
Source: msn.com
Added automatically
180 views