News
'Feeling very sad tonight' Brian May gives emotional update as fellow music icon dies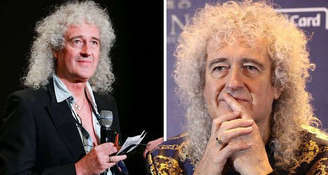 Brian May has reached out to his 2.9 million followers as he shared a tribute to Don Everly. The Queen guitarist admitted he was "feeling very sad" over the death of the Everly Brothers' musician.
Overnight, Brian shared some videos with his Instagram followers as he reacted to the news.
Two short clips saw the Queen musician playing some classic tunes on his record player.
Alongside this, he shared an emotional tribute to the rock 'n' roll star Don who died at the age of 84.
Brian wrote: "So sad to hear that Don Everly - the elder of the two fabulous Everly Brothers - passed away.
"The excitement I felt when I first heard the amazing records they made in the 1950s when I was a kid has never faded away.
"The influence they had on me, especially with regard to HOW TO SING HARMONIES, has been massive - and is evident on lots of Queen records as well as my solo recordings."
Brian went on to explain how much he "loved these guys", even admitted he wanted to be in the band with them.
"I got into the habit of singing a third harmony part along with them. I wanted to be part of their group!
"This is my adoring tribute to these two wonderful boys, now reunited in the Next Place.
"I hope you're rockin' up there, guys. RIP Don Everly. Bri," he continued.
In another post, Brian wrote: "Feeling very sad tonight knowing that Don Everly is no longer in the world.
"I had to go and find the 45 of the Everly Brothers first huge hit - and also find the record player I used to play it on."
News of Don's death was confirmed over the weekend when his family shared the news.
The cause of death was not disclosed as it was confirmed he passed away at home in Nashville.
His brother Phil Everly died in January 2014 of lung disease just before his 75th birthday.
Brian is not the only musician who paid tribute to the music icon following the news.
Nancy Sinatra penned: "We have now lost Don Everly. Touring with Phillip and Donald was literally thrilling.
"To have the privilege of singing with their breathtaking iconic voices was one of the great gifts of my career. Godspeed, Donald. I love you."
Ringo Starr added: "God bless Don and Phil the Everly brothers we loved them peace and love."
Peter Frampton wrote: "I am so sad to hear about the loss of Don Everly. Both Phil and Don created songs and harmonies that changed music forever.
"You will be together again now. RIP Don and Phil."
Source: msn.com
Added automatically
178 views