News
Inge Ginsberg, Holocaust survivor and free spirit who became a 'death metal' star in her 90s – obituary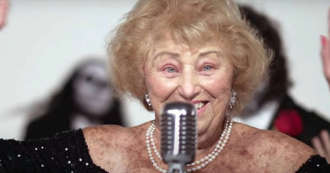 Inge Ginsberg, who has died aged 99, fled Nazi-controlled Austria and later moved to Hollywood where she and her husband Otto Kollmann composed songs for Nat King Cole, Doris Day and Dean Martin; in her 90s she decided to reinvent herself as a "death metal" singer – a variant on the heavy metal genre generally associated with bands with names like Venom, Morbid Angel or Necrophagia
She was born Ingeborg Neufeld in Vienna on January 27 1922 and grew up in an assimilated Jewish family which could trace its Austrian roots back 800 years; her father, Fritz, ran a freight company. They had a comfortable life, spending weekends in a country villa. Inge attended high school, learnt to dance and enjoyed skiing holidays with her friends.
After the Anschluss her family was separated. Her father was sent to Dachau but managed to bribe his way out and escape on the St Louis, a cruise liner that left Hamburg in May 1939 carrying more than 900 Jews which, after being denied permission to land in Cuba, Canada and the US, was forced to return to Europe. Fritz Neufeld was among the refugees lucky enough to be allowed to disembark in the UK. Others returned to the continent, where many subsequently perished.
Inge, her mother Hildegard, her younger brother Hans and her fiancé Otto Kollmann remained in Vienna. Hans and Otto were assigned essential work as gravediggers, so they avoided deportation to the camps, but the threat was ever present. On one occasion Inge recalled hiding all night behind a grandfather clock in a city centre building as Nazi paramilitaries called door to door.
In 1942 Hildegard gave all her jewels to an Austrian count who agreed to smuggle the family, and Kollmann, out of the country. They made it to Switzerland, where they initially ended up in a refugee camp. Later on Inge was approached by the OSS (the precursor of the CIA) to manage a villa in Lugano set up to spy on Nazis and coordinate operations by partisan groups.
A grandmother and four young cousins died in the Holocaust.
After the war Inge and Kollmann married and moved to Los Angeles, where they had some success as a song-writing duo. But Inge disliked Hollywood life and in the late 1950s she left her husband, and Los Angeles.
For some 10 years she lived in Israel where, in 1960, she married Hans Kruger, who ran a luxury hotel in Tel Aviv. They divorced in 1972 and the same year she married Kurt Ginsberg, with whom she mainly lived in Quito, Ecuador.
She also spent much time in Zurich, where she worked as a journalist for the weekly Die Weltwoche, published books of poetry in English and German and had success buying stocks and shares, which allowed her to acquire homes in New York City and in upstate New York.
"I've been married three times legally, and I've had a lot of boyfriends," she told the Times of Israel in 2019. "At one time I had four at the same time – one to live, one to laugh, one for fun, and one to cover the whole game with his name. I'm a very moral person, but I have my own moral laws."
After Kurt Ginsberg's death in 1999, Inge split her time between her homes in the US and apartments in Tel Aviv and Switzerland. She continued to write lyrics and poetry, but in later life decided she needed to find a new way to reach an audience.
Her unlikely foray into death metal evolved after meeting some young musicians in New York, with whom she formed the band Inge and the TritoneKings . "I can't sing. I can't carry a tune. So heavy metal works because I just have to say the words," she told the Times of Israel.
n 2015 and 2016 the band, featuring Inge Ginsberg in evening gown and pearls screaming into the microphone in English and German, took part in the Swiss qualifiers for the Eurovision Song Contest. Inge's performance earned her the nickname "Death Metal Grandma" and she became something of a sensation on YouTube. She also caught the attention of filmmaker Leah Galant, who made a documentary about her life.
The messages of her songs, which Inge Ginsberg wrote herself, were untypical of the death metal genre, however, being life affirming and proclaiming the importance of the environment and love: "You don't have to be kind. You just have to not harm anybody," she said. "If nobody would harm anybody it would be a wonderful world."
Inge Ginsberg is survived by a daughter from her first marriage.
Inge Ginsberg, born January 27 1922 , died July 20 2021.
Source: msn.com
Added automatically
439 views