News
Ricky Gervais nervous about releasing first 'serious' song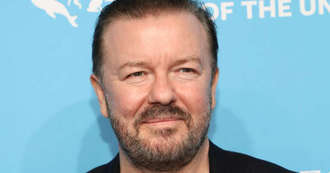 Ricky Gervais has written his first "serious" song but is anxious about releasing it.
The funnyman has put out comedic tracks as his The Office character David Brent in the past but recently turned his hand to serious songwriting for the first time in 40 years.
His efforts have resulted in Just Three Things, which he composed and wrote for the third series of his Netflix show After Life, and now, Gervais has admitted he feels embarrassed about having "a real song".
"It's not in the show but the instrumental is, because it's really good - we recorded it and I've even cut an unofficial video for it. But I'm worried about putting it out because I'm embarrassed as it's a real song," he shared in a chat for The Sun. "I can put out ironic songs as David Brent but I haven't written a serious song in 40 years so I'm thinking, 'What if it's c**p?' but it's not, it's really good."
The 60-year-old explained that he feels nervous about sharing the tune, which is performed by Andy Burrows, in case he becomes a laughing stock.
"It's not me being me, it's a song about After Life and Andy's singing so I wouldn't need to tell anyone that I've written it but still," he continued. "There's something in it when you're being serious.
"You're worried about the critical reaction more than when you're being stupid because when you're being stupid and somebody goes, 'That's rubbish' you're like, 'I don't give a f**k'. If you're being really serious and someone says, 'It's rubbish', you go, 'F**k, is it?'"
The third and final season of After Life is due to debut on Netflix next year.
Photo: provided by Cover Media
Source: msn.com
Added automatically
252 views