News
PinkPantheress calls music 'the most pivotal part' of her teenage years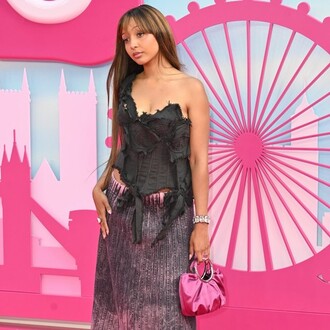 PinkPantheress has described music as "the most pivotal part" of her teenage years.
During an interview with Zane Lowe for Apple Music, the English singer and record producer opened up about how music impacted her younger years.
"Oh, it was the most pivotal part," the singer, real name Victoria Walker, replied when Zane asked her how important music was in helping her get through her teenage years.
"Well that's kind of, it's actually then when I realised that music could actually influence your whole identity," the 22-year-old continued. "Down to the clothes, to the hair, even down to how you speak and talk."
Zane added, "And who you attract in your life, cause that's how you meet people, they're like 'Oh I dress like that.'"
She agreed, adding, "So obviously I was the emo, I was friends with all the emos at my school and yeah that was really my life, and music ruled my life to a point when then they started listening to other music, I then joined them and started listening to the other bits of music."
The Boy's a Liar hitmaker continued, "So we all made this transition together, from emo to this genre to this genre so we all made it together."
PinkPantheress rose to fame in early 2021 after her songs Break It Off and Pain went viral on TikTok. Later that year, Pain peaked at number 35 on the U.K. Singles Chart.
Photo: Cover Media
Source: Cover Media
Added automatically
24 views