News
Pink Floyd star stages Wall album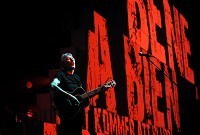 Ex-Pink Floyd star Roger Waters has staged his monumental concept album The Wall, live in the UK for the first time in more than 30 years.
The musician performed his former band's 1979 release in its entirety in London, with an epic stage show involving the construction of a colossal 25ft high wall across the stage.
When the band originally toured the album the huge costs of creating the lavish production meant it visited just four cities the first time around - Los Angeles, New York, Dortmund and London.
Waters later staged it as a solo act in 1990 at Berlin's Brandenburg Gate.
But last year the bass player, who was the creative force behind the album, announced he was reviving The Wall, seen as a creative high-point for the band's career.
Although the double album deals with challenging issues such as alienation and isolation, it spawned a number one single Another Brick In The Wall Part 2, and featured well-loved tracks such as Comfortably Numb.
Waters was given a standing ovation before he played a note, as the black-clad figure strode on stage at the O2 Arena in London to put on a military leather trench coat.
Uniformed, flag-waving figures paraded on platforms as part of the theatrical show's dystopian imagery, before an aircraft soared across the auditorium, erupting in a ball of flame on stage.
And a sinister 20ft tall Gerald Scarfe-designed puppet patrolled the side of the stage during Another Brick as the construction work began.
"Good evening, welcome. It's 29 years and 328 days since we last played The Wall in London," Waters said before accompanying a film of himself from that show, playing the track Mother. He said he was doubling up with "poor f***ed-up miserable little Roger, from all those years ago".
Source: music.uk.msn.com
Added by AutoAdmin
790 views