News
Gaga brings drama to American Idol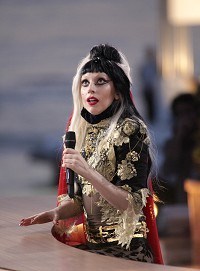 Lady Gaga turned up the heat on American Idol.
The eccentric pop superstar pushed the Fox singing competition's top four finalists to add theatrics to their performances of Jerry Leiber and Mike Stoller songs.
Her advice that Scotty McCreery should pretend that the microphone is his girlfriend prompted the deep-voiced 17-year-old country crooner to kiss the cross around his neck.
Lady Gaga's steamy direction didn't seem to deter Scotty, who impressed the judges with both his rollicking take on The Coasters' Young Blood and heartfelt rendition of Alan Jackson's Where Were You (When the World Stopped Turning).
Lauren Alaina also seemed poised for greatness with her inspirational ballad of Martina McBride's Anyway, but she wasn't ready to proclaim that she was "evil", as noted in the lyrics to Elvis Presley's Trouble, until she received some motivation from Lady Gaga, who directed the 16-year-old singer to sing the ditty in character.
"When I was 16, I was way too weird to be on American Idol," Lady Gaga admitted.
The judges bickered about Haley Reinhart's interpretation of Michael Jackson's Earth Song. "I felt like you were just screaming," Jackson said over a chorus of boos from the crowd.
Haley returned with a vengeance with Ben E King's I (Who Have Nothing). Lady Gaga directed her to let out a dramatic exhale in the middle of the song.
Jackson dubbed it "her moment" of the night, and Tyler informed her that she "just Reinharted yourself into the middle of next week".
Rocker James Durbin opened the show clad in tails with Journey's Don't Stop Believin' and closed it down with a metal-tinged take on The Clovers' Love Potion No 9. Jackson, who formerly played bass with Journey, said James was "paying homage to my friends".
Source: music.uk.msn.com
Added by AutoAdmin
764 views