News
Rockers: What will our folks think?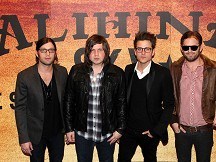 US rockers Kings of Leon have revealed their biggest worry about their "brutally honest" new documentary was what their grandparents would make of it.
The group's warts-and-all movie, Talihina Sky: The Story of Kings of Leon, received its European premiere at the Edinburgh International Film Festival on Saturday night.
All four band members - brothers Caleb, Nathan, Jared and cousin Matthew Followill - were in the Scottish capital for the screening, where they admitted they found some of the things in the film tough or embarrassing to watch.
Nathan said: "It's a pretty brutally honest look into the way we were raised and how we turned out to be after the band started. We were more worried about what our grandparents would think more than anything else, but kids - the ones that have seen it so far - seem to like it, so hopefully it'll be just as successful here."
He added: "We get to hide behind our instruments on stage. With this stuff, you're pretty much exposed."
The movie charts the band's rise to fame and lays bare their history, home life and fiery relationships.
Lead vocalist Caleb said it was important for the Sex On Fire rockers to give an honest on-screen portrayal of themselves.
He said: "We all had to come together as a group and say... if we're going to do it right now we have to be honest with it.
"Nobody wants to see us up there (in the film) just on stage and winning awards or selling records. I wouldn't want to see that. If you want to see us on stage, come to a concert. It's tough, it's definitely tough for me because I'm an a**hole in most of it."
Matthew found the end result "pretty cool" and said he was bowled over to watch footage from his childhood of events had had long forgotten about. He said: "It was kind of a hard process. You've got to let yourself go a little bit. There's a lot of honest things in there, more honest than maybe we would want them to be."
Source: music.uk.msn.com
Added by AutoAdmin
807 views