News
Ja Rule set for jail in gun case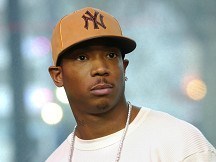 Multi-platinum-selling rapper Ja Rule is set to go to prison, but he is leaving fans with an album on the way.
The rapper-actor - whose gravelly voice, thuggish tough talk and duets with R&B divas made him one of rap's stars in the early 2000s - is due to be sentenced to two years in a New York jail.
"My last day out," he Tweeted, adding that he was spending it at the movies with his family.
Ja Rule, 35, pleaded guilty in December to attempted criminal possession of a weapon, resolving a nearly four-year-old case.
Police said they found a loaded .40-calibre semiautomatic gun in a rear door of his 250,000-dollar (£152,400) Maybach sports car, which they said they had stopped for speeding as he left a star-laden concert at Manhattan's Beacon Theatre on July 22, 2007.
Rap superstar Lil Wayne was arrested separately after headlining the same show. He later pleaded guilty to the same charge, spending about eight months in a city jail last year.
"Laws are laws," Ja Rule said on the TV show Good Day New York on Monday. "There's nothing I could really do but own up to the situation."
"You know, I try not to regret anything I do in life, because you go through life and you do things, and you man up to them. You own them," he added.
Born Jeffrey Atkins, Ja Rule emerged as a hardcore rapper in the late 1990s but then became known for his collaborations with female pop singers, including Jennifer Lopez and Ashanti. He scored a best rap album Grammy Award nomination in 2002 with Pain Is Love.
He has recently been finishing a new album, Pain Is Love 2, but he told Good Day New York he has also been trying to prepare himself mentally for prison. He lives in Upper Saddle River, New Jersey, with his wife and three children.
Source: music.uk.msn.com
Added by AutoAdmin
1208 views