News
Wanted hope to join torch relay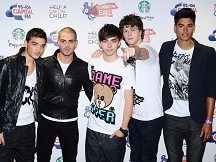 The Wanted's Max George has joked that he is planning to steal the Olympic Torch to make sure the boy band are allowed to take part in the relay before the London 2012 Games.
The Glad You Came singers are backing Coca-Cola's Future Flames campaign which already counts star names such as Dizzee Rascal and Eliza Doolittle as supporters.
Max said: "We are hoping that we are taking part. We keep putting it forward and we keep trying to nick the torch. If we manage to steal the torch, then I suppose we'll have to go on it."
The 22-year-old singer is excited about the Olympics coming to London next year and is hoping to get tickets to see the track racing events.
He said: "I've not actually applied for tickets, but I'm hoping with my involvement for the Olympics that they'll get me some tickets."
London 2012 want half of the 8,000 torchbearers who will carry the Olympic Flame on a 70-day relay to the opening ceremony to be deserving youngsters aged 12-24 years.
The Wanted said: "If you know any brilliant young people that deserve a bit more recognition than they're getting, let us know, because we want you to nominate them as Future Flames."
They went on: "We know there's loads out there that slip under the radar, so if you have anyone in mind, don't leave it to someone else, nominate them!"
The Olympic Flame will arrive from Greece and begin its relay in Land's End, Cornwall.
Nominations can be made online - at www.cokezone.co.uk until September 5 2011.
Source: music.uk.msn.com
Added automatically
1332 views