News
Lily: I could have died like Amy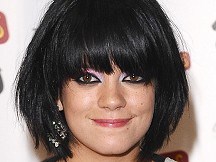 Lily Allen has claimed she was in danger of dying young like Amy Winehouse.
The 26-year-old singer and fashion designer - who is now known as Lily Cooper after marrying builder Sam in June - now lives in the country and is seven months pregnant. But she told the Evening Standard that her friends had feared she could suffer the same fate as Amy, who died aged 27 in July.
Lily said: "[I felt] really sad. I've had nights out with Amy and I know exactly what used to go on."
She added: "Actually, when Amy died, I got several texts from friends saying they were really glad I was still here. That I hadn't died too. It's so easy to get caught up in that madness and I count my lucky stars I've been strong enough to walk away."
Lily is being extremely cautious with her current pregnancy after she had a miscarriage in 2008 with ex-boyfriend Ed Simons and suffered a stillbirth last November.
She revealed: "After my last baby, I'm being really closely monitored so I come to London every Thursday for a scan. The doctor keeps telling me to take it easy.
"With this pregnancy, especially with what happened last time, I'm getting to the point where I think, f**k everything. It's the one time in my life I'm allowed to do nothing."
Source: music.uk.msn.com
Added automatically
1176 views