News
Amy thought she'd 'live forever'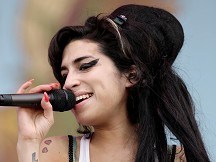 Amy Winehouse's father Mitch said his daughter thought she would "live forever" and ignored warnings about her potentially fatal lifestyle.
The Back To Black singer was found dead at her flat in north London on July 23.
Because of her very public battles with drink and drugs, news of her death was quickly followed by suggestions it could be related to one or the other but toxicology results showed there were no illegal substances in her body when she died.
Mitch said his daughter had shown "incredible self-discipline" to beat her drug habit but continued drinking.
He told Piers Morgan's CNN show: "She would drink for two or three weeks and then she would detox for two or three weeks and that is the worst thing that anybody can do ... her doctor very specifically told her about six months ago, and she wrote to her and she wrote a copy to me, that if this behaviour continued, the binge drinking and then the detoxing, that could lead to seizures which could ultimately lead to death.
"This was what the doctor said and I guess she was like any other 27-year-old who thinks ... you can live forever and she chose to ignore the advice."
Mitch, who was in New York when he heard his daughter had died, said he was in shock when her security guard phoned to tell him the news.
He told the Sun: "I couldn't understand him at first. I was like ice. I was cool as a cucumber."
Amy's last recording, a cover of Body And Soul with veteran crooner Tony Bennett, is released on Wednesday - which would have been her 28th birthday.
Some of the proceeds from its sale will go to the Amy Winehouse Foundation which her father has set up.
Source: music.uk.msn.com
Added automatically
1024 views