News
Neil Young gets extreme close-up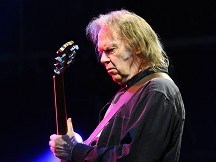 Neil Young's latest concert film is so up close and personal it leaves the audience viewing the rocker through his own spit.
Neil Young Journeys premiered at the Toronto International Film Festival. Afterward, Young joked with the audience that a tiny camera mounted on his microphone for the concerts "scared the hell out of me".
The camera was so close that it caught a glob of the singer's spittle, creating a blotch on the lens that gives the footage a bit of a psychedelic tinge.
Director Jonathan Demme told the audience he decided to include that sequence in the film, quipping that it was like a "hundred-thousand-dollar special effect".
The evening was a homecoming for Young, who grew up in Ontario north of Toronto.
It also allowed Young and Demme, the Academy Award-winning director of The Silence Of The Lambs, to reflect on their nearly 20-year association, which includes the previous concert films Neil Young: Heart Of Gold and Neil Young Trunk Show.
The two first came together as Demme was finishing his 1993 drama Philadelphia, starring Tom Hanks as a gay lawyer dying of Aids.
Neil Young Journeys captures the singer at Toronto's historic Massey Hall last May for the closing two shows of his Le Noise tour. Young's music thunders through the hall as he plays solo on acoustic and electric guitar, harmonica, piano and organ.
After the film screening, Young recalled his early days as a failed musician in Toronto and summed up his long collaboration with filmmaker Demme.
"He loves music," Young said. "And I love movies."
Source: music.uk.msn.com
Added automatically
1062 views