News
Katy B freaked out by tour success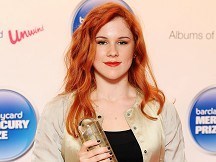 Katy B has confessed she feels "freaked out" headlining her own tour, as she can't believe fans buy a ticket just to see her.
The 22-year-old singer and Mercury Music Prize nominee - real name Kathleen Brien - is about to begin her second headline UK tour, but admitted success still feels weird.
Katy said: "I know this sounds like a cliche, but before that tour I'd done two support tours and festivals, but that was the first time people had come to see me. I found that really weird, so strange.
"People used to ask if I thought festivals were weird because it's all about winning over new fans and playing to people who aren't necessarily there to see you, but I'm used to that.
"It's the idea of someone buying a Katy B ticket that freaks me out. Because of that, it was really nice to meet and play to the people that have bought my record and supported me."
And the On A Mission star is intrigued by the people who come to see her.
She said: "It was a real mix; boy ravers, younger girls, girls in their early 20s, and there was one guy there with his mum because they both liked my album. That was really sweet. It was lovely meeting everyone and chatting to people afterwards."
Katy begins her second headline UK tour on October 8 in Ipswich.
For more information, visit www.katyonamission.com
Source: music.uk.msn.com
Added automatically
1095 views