News
Sheeran: Tinie is like Superman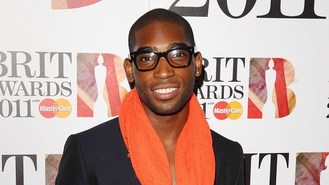 Ed Sheeran has joked that Tinie Tempah is like Superman, because no one recognises him without his glasses on.
The Lego House singer told The Guardian his distinctive looks make it impossible to hide from his fans, and he envies the chart-topping rapper, who manages to blend in unnoticed.
Ed said: "I have bright ginger hair.
"I went to Nando's with Tinie Tempah the other day. Tinie had a beanie hat on, and he didn't have his glasses on. We sat down and people were coming up to me and ignoring him. I was looking across at him, going: 'Do they know who you are?' And at one point he just put his glasses on and everyone was like, 'Oh s**t, it's Tinie Tempah!' It was kind of like Superman wearing a suit and then ripping it off.
"But sadly, I can't shave my hair off every day, and beanie hats don't really work for me. I have tufts. They stick out."
The 21-year-old star's devoted fans follow him everywhere and strongly defend him on Twitter, but he revealed he appreciates the fact they can relate to him.
He said: "I was on some TV shows with Lady Gaga the other week, and you could see the difference in reaction between her fans and my fans outside. She comes out and she looks like a star and the reaction is just tears, crying, people going, 'Oh my God, Oh my God.'
"My fans are like, 'Alright, Ed.' I dress like them, I'm not in a wig and a load of glitter, I speak like them, use the same slang words, watch the same TV programmes, do all the normal s**t."
Source: music.uk.msn.com
Added by AutoAdmin
760 views