News
Engelbert facing Russian grannies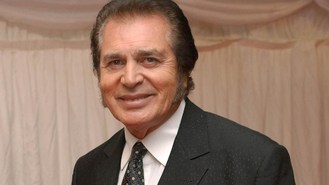 Veteran crooner Engelbert Humperdinck faces tough opposition in this year's Eurovision Song Contest - from some Russian grannies.
The 75-year-old star, known for his hits The Last Waltz and Please Release Me, has the nation's hopes resting on his shoulders after being chosen by the BBC to represent the UK this year.
And the permatanned heartthrob will not be the only older contestant testing his tonsils this year.
A Russian group known as the Buranovo Grannies swept aside glamorous opposition in a bid to represent their country at Eurovision. The eight women beat a double act, including 2008 Eurovision winner Dima Bilan, in a televised show.
An outfit from a village in Russia's Udmurtia Republic, the women blend modern pop sounds with their own traditional singing style.
The refrain of the Buranovo Grannies' Party For Everybody is in English, but the remainder of the song is in Udmurt, a distant relation of Finnish spoken by some 325,000 people.
The 57th Eurovision Song Contest will be held in May in Baku, Azerbaijan.
Source: music.uk.msn.com
Added automatically
989 views