News
Swift: I'd like to sing with rapper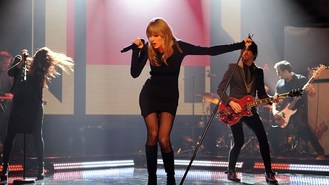 Taylor Swift has revealed that she would like to collaborate with a hip-hop star like Eminem or 50 Cent.
The I Knew You Were Trouble singer has made her name with country-pop songs but is a closet fan of rap.
"I love hip-hop so much. There's something so honest about it," she told UK InStyle.
The 23-year-old admitted she would be up for singing with a rapper, saying: "Nobody wants to hear me rap but I'd sing a chorus for someone for sure. I would sign up for that in a heartbeat."
Taylor also confessed she began writing songs because she was lonely.
"I first started writing songs because I didn't really have anyone else to talk to. As sad as that sounds, I was going through this really hard time at school where I didn't have any friends. Song writing for me just started out as therapy," she recalled.
The singer, who has dated One Direction's Harry Styles, Jake Gyllenhaal, Joe Jonas and Taylor Lautner, admitted she doesn't have a "master plan", but said she never wants to end up alone.
"What I worry about is that I never want to end up kind of a self-centred, vain human being. My fears circle around me making the wrong choices and messing this up for myself," she said.
"I don't wanna end up being awful and intolerable. Alone. Laying in a marble bathtub by myself, like sad, with a glass of wine just complaining that my life ended up alone because I pushed everyone away because I thought I was too good to hang out with anybody. The typical Hollywood sad cliche of the poor lonely starlet with no one because she put up all these walls and didn't trust anyone. That's my fear."
Source: music.uk.msn.com
Added by AutoAdmin
793 views