News
Harding admits Girls Aloud clashes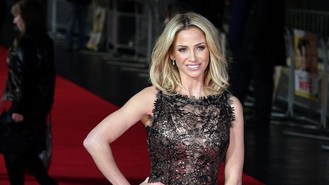 Sarah Harding has admitted Girls Aloud had clashes of opinion on their reunion tour and she was looking forward to having "more control" as she pursues her solo music career.
The 31-year-old singer told Look magazine she would rather "cut and run" from the girlband after their successful Ten tour, than keep making music as a band and "end on a bad note".
Sarah said: "We were more grown up and more opinionated, and when there were discussions to do with work we'd all be sort of strategic.
"Me and Nadine [Coyle] are more music orientated - more vocals - and the other three are more about dancing. I'd put my foot down about the music side of things. Nicola [Roberts] was more about the clothes. Choreography is Cheryl [Cole]'s forte.
"When there's five of you, it's difficult to have a say in everything. I'm looking forward to having more control."
Sarah said she cried when the band - which also included Kimberley Walsh - performed their last ever show in Liverpool last month, but she insisted she was surprised by bandmate Nadine's comment on Twitter that she had not wanted to split.
Sarah said: "I was unaware she even felt like that. At no point did she try and stop us, so you'd have to ask her why she did that.
"We all had other things in the pipeline for after this tour and wanted [it] to be the biggest and best show we'd done. We'd rather do that than keep putting out more and more music every year and gradually waning, because music's evolved since we've been around. I'd hate to think we'd end on a bad note. Cut and run."
Sarah also commented on her stint in rehab last October, when her drinking and partying took its toll.
She said: "I'm 200 per cent better nowadays in terms of my inner strength and attitude. I'm a lot calmer. I'm just like any normal person, I have a drink. [Back then] I was going through a break-up. That was then and this is now and, yes, things are different."
Source: music.uk.msn.com
Added automatically
1113 views