News
Tyler: Euro song may be too good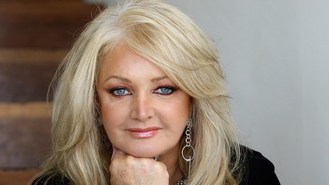 Eurovision hopeful Bonnie Tyler says she has been advised that if her song does not win the song contest, it is because it is "too good".
The 61-year-old Total Eclipse Of The Heart star will represent the UK in the singing competition with a track from her new country-inspired album called Believe In Me. She follows Engelbert Humperdinck in representing the UK, who last year finished just one place off the bottom. Blue in 2011 finished in 11th place.
Bonnie revealed: "It has been said to me over the last couple of weeks, 'You're not going to win this Bonnie, your song's too good'.
"Eurovision - you can't guarantee that it's all about the song, but I'm going to give it my best shot and I've think we've got a good chance of having a good score at least... I hope."
Welsh star Bonnie admitted she is more nervous about getting her outfit right, rather than performing to viewers across Europe at the show.
She said: "I don't know what I'm wearing. I'm seeing the stylist but it's going on a bit now and I STILL don't know what I'm wearing - and that's a bit nerve-racking."
But the Holding Out For A Hero star is staying true to herself with her performance.
"I'm not going dramatic, I'm going Bonnie Tyler," she insisted. "I'm not having backing dancers on the stage. I've got musicians and backing vocalists on the stage.
"My outfit will be much like I wear normally I think. Probably something a bit off the shoulder, with sleeves. Not too low cut and maybe some sort of flowing bottom over skinny trousers or something."
The contest will take place in Malmo, Sweden on Saturday May 18. It will be broadcast live on BBC One and BBC1 HD with commentary by Graham Norton, and on Radio 2 with commentary from Ken Bruce.
Source: music.uk.msn.com
Added automatically
1210 views