News
Union J: We'll do anything for No 1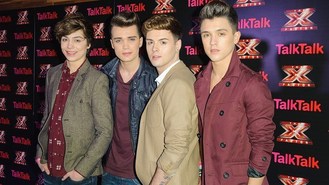 Union J's George Shelley has vowed to sit naked in a bath of baked beans if the band's debut single Carry You gets to Number One.
X Factor runners-up George, Josh Cuthbert, Jaymi Hensley and JJ Hamblett are releasing their first single on June 2 and told The Sun they'll do anything to top the charts.
George said: "We'll have a massive party - and I've said I'll sit in a bath of beans. Definitely, be pictured and everything, you have my word.
Since The X Factor the lads have all moved to London where George and Josh are living together, and JJ and Jaymi are also sharing a flat.
George revealed: "JJ and Jaymi have turned into husband and wife. They're like my nan and grandad. When we get in the car in the morning, they're like, 'Have you got this, have you got that?'
And the lads appear to bicker like a couple too.
Jaymi revealed: "JJ hasn't found the iron, the hoover or the washing machine yet. He doesn't know how to use any of them. And when he goes to the toilet and the loo roll runs out, rather than replacing it, he'll just go to a different toilet. Very lazy JJ."
Source: music.uk.msn.com
Added by AutoAdmin
670 views