News
Heard: Cara D's voice is soulful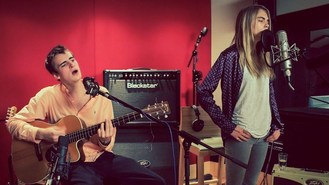 Cara Delevingne could have a successful singing career if she decides to release music, her friend Will Heard has said.
The pair performed an acoustic version of Klangkarussell's No 3 hit, Sonnentanz (The Sun Don't Shine), which Will features in, after the model joined him at the studio.
"What she does is quite honest. If I was to make music with her, it would be more soulful. She's got a really nice voice, and I think, 'Why not?' If she's got time, she should write an album," said the 21-year-old.
"Her vocal is really understated and what she does with it is unique, not what you would typically expect. Also, her guitar skills are ridiculously good and she's great fun to jam with."
Will - who next features in The Aston Shuffle's track Comfortable - admitted he was surprised when Cara dropped into the London studio.
"I've known Cara since we were both 14 or 15, through mutual friends. But I haven't seen her for ages, because she was working so much. When she turned up from a plane somewhere, we free-styled it a few times," he recalled.
"It was so spontaneous - it's cool. It was amazing. We jam anyway when we're bored and we're at a party or something - we start beat-boxing and singing. She's got a guitar in her bedroom, which I always play."
Sonnentanz (The Sun Don't Shine) got extra hits after Cara recommended the song to Rihanna.
"She played it to Rihanna, who said I reminded her of a young Bob Marley. I can't believe it," Will said.
"I have to give her a big hug and say thank you when I meet her. I'd love to make music with her, but I need to practise on getting good first."
Source: music.uk.msn.com
Added by AutoAdmin
638 views