News
Foster The People didn't seek hit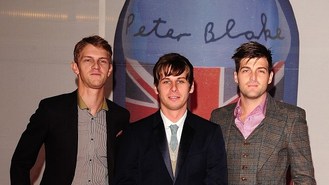 Foster The People have said they were keen not to try and write another chart topper for their second album.
The band - Mark Foster, Cubbie Fink and Mark Pontius - were surprised that 2011's Pumped Up Kicks was so successful but said they didn't want to make a conscious effort to do the same again.
Mark said: "I feel like trying to write a song in order to be a big hit is just not something I'm interested in because it's not going to come from an authentic place of expression.
"I've heard a lot of bands try to do that type of thing on their second record, especially if they happen to have a hit or a couple of hits on their first, and a lot of times the stuff ends up sounding like Budweiser commercials, you know? We don't make music for that reason. We're not the corporation of Foster the People. We're a band."
He and Cubbie went travelling to North Africa and the Middle East to get some inspiration for second album Supermodel.
Mark explained: "It's really about, I guess, the difference between the culture that we live in in L.A. and looking at the rest of the world and seeing how other people live with the focus on kind of just community, communication, real connections, social media and how social media is affecting our culture now.
"I think it's looking at isolation in the US and that being something that's kind of growing, and comparing that to other cultures that are really very in tune with how people have been living for thousands of years."
He continued of being inspired by different sounds: "I think that's the fun part, really letting that wild animal in the room, then trying to catch the tail. Once you have the tail, it's going to pull you where it's going to pull you. That's the spirit of this album."
Source: music.uk.msn.com
Added by AutoAdmin
616 views