News
Danny embraces return to music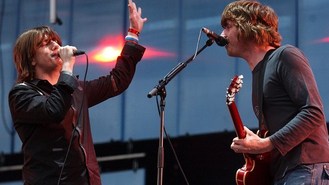 Embrace frontman Danny McNamara has revealed how he became so disillusioned with the music business that he had to put his guitar away so he didn't have to look at it.
The West Yorkshire five-piece disappeared from public view eight years ago, but are finally back with a new album and tour in 2014.
Danny said that when they went under the radar in 1998, he needed to take a complete break from music.
"We didn't play any gigs, didn't write any songs," he revealed. "I couldn't even look at my guitar. It was in my room next to a cupboard and I had to put it away. I just got to the end of the road with it all.
"The last album was really successful, we'd become really successfully commercially, but that ran away with itself and left the music behind. We were playing a massive festival and I felt the most disassociated I'd ever felt. The rest of the band had that to different degrees too."
Danny didn't fall out of love with music for long though, and revealed the band - made up of Danny, his brother Richard on guitar, bassist Steve Firth, Mickey Dale on keyboards and drummer Mike Heaton - have actually been working on their "comeback" for five years.
"I became disillusioned with the whole thing but the bug comes back," he said. "My brother Rich got it first, he was working in a studio, and wrote some stuff that sounded like nothing we'd ever done before, and then I started writing again and it all spiralled from there.
"That was five years ago and we've been writing since then. We actually only finished the album earlier this year, which is a weird feeling because I'd been saying the album would be ready 'in a month' for the last five years."
Danny was happy to ring the changes with the band's new music.
"I think we always move things forward and try new things. We've been away for quite a while, and for us it feels like natural evolution. People have said it sounds different, and another mate said it sounds like we've gone into ourselves and therefore more like Embrace than ever before, in a totally new way. That made me feel great, as that's just how we feel about it."
Embrace's self-titled sixth studio album is out now. They're on tour around Britain in May, and will also be playing at T In The Park and V Festival.
Source: music.uk.msn.com
Added automatically
882 views