News
Miley hits back at overdose claims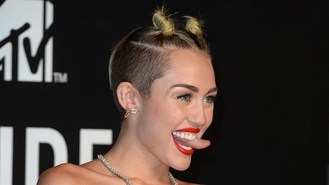 Pop star Miley Cyrus hit back at claims she had taken a drug overdose after a bout of ill health threatened to disrupt the UK leg of her Bangerz tour.
The Wrecking Ball singer used a brief, typically energetic and expletive-laden press conference to boast about her fine physical health after a sinus infection - compounded by an unexplained bereavement - consigned the singer, actress and dancer to her sick bed.
The former Disney star was forced to postpone her US tour last month but has begun the European leg and will resume performances in America on August 1.
But she said she was "the poster child for good health" as she prepared to embark on the UK stint of her arena tour - and promised to "f*** this place up".
The chart topper, urged by a member of her entourage not to answer the journalist's "poor" question about what had happened to trigger the illness, dryly added: "But when people are lying on the internet saying you've had an overdose, that makes you feel better."
She said: "I'm feeling good, I'm alive, so that's f*****g awesome. Look at me, I'm the poster child for good health.
"I've been laying down for three weeks. I'm gonna go off - I'm like a star waiting to explode.
"I didn't have a drug overdose. I took some s****y antibiotic my doctor gave me and I had an allergic reaction.
"I already had a death in my family so my immune system was already low."
She said fans could expect the unexpected.
"I'm gonna f*** this place up," she said. "We're gonna have a lot of fun. We're gonna be, like, tops off, f*****g screaming.
"You have no idea how ready I feel."
Cyrus has already spent her short time in the UK sightseeing ahead of tonight's gig at London's O2 Arena.
Her on-stage antics and risque costumes have divided audiences, a reputation compounded by her provocative "twerking" dance at last year's VMAs.
Joking with journalists today, the former Hannah Montana star said strippers had enquired about where to get similar outfits.
She added: "You get a lot more famous if you show your t**s."
And she joked that many people thought her album and tour - which share the same name - where based on either the British dish bangers and mash, or a euphemism for breasts.
Neither was true, but Cyrus said there would be a strong English presence through her set.
She said: "I'm doing an Arctic Monkeys cover while I'm here. I was hoping they were gonna come but obviously they are in Australia on tour."
The tour, which will also feature a cover of a Coldplay song, continues in Leeds on Saturday and Glasgow, Manchester and Birmingham next Monday, Wednesday and Friday respectively.
Source: music.uk.msn.com
Added automatically
893 views