News
Sande: Shows need more songwriting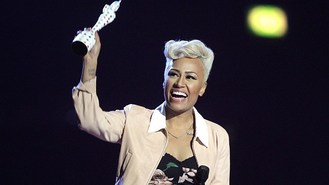 Chart star Emeli Sande has called for TV bosses to feature more new songwriting on shows like The X Factor and The Voice, and called the "exploitation" of contestants "heartbreaking".
The best-selling singer, 27, who has penned tracks for Susan Boyle, Leona Lewis, Alicia Keys and Rihanna, said that she did not have anything against TV talent shows.
But the Scottish singer-songwriter told Radio Times magazine: "I just wish there was more (new) songwriting on those shows. And when they exploit dreams, that's heartbreaking.
"That's what p***** me off. Don't do that to people just so we can watch it on TV."
The Read All About It singer, who reportedly turned down an offer to replace Jessie J on The Voice, said of the shows: "If people get a chance to do something they dream of, you can't be snobby towards that."
Sande has travelled to Mexico City to make an ITV documentary about Frida Kahlo, the artist whose portrait she has tattooed on her right arm.
"When I moved to London from Glasgow, it was my first real liberation, a feeling of: OK, I'm not a doctor any more," the singer and former medical student said.
"So my Frida tattoo was a real statement that I was making the commitment to being an artist. Because you can't have a tattoo like this if you're a doctor - you have to wear short sleeves."
Sande, who now lives just outside London, would not be drawn on her views on Scotland's independence referendum, saying: "There's Scottish pride and feeling like you're British - but I don't really feel anything. I'm a bit Zambian, a bit Cumbrian (on her mother's side), a bit Scottish, live in London... so I'm a bit like a gypsy to be honest.
"So I don't know. I'm too ignorant of the facts to even make a decision, especially publicly."
Source: music.uk.msn.com
Added automatically
857 views