News
Pharrell: I hung up on MJ - twice!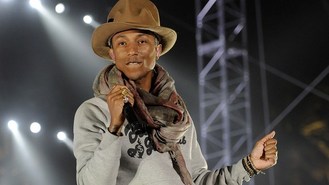 Pharrell Williams has revealed how he hung up on Michael Jackson twice, because he thought he was a prank caller.
The Happy star and music producer revealed on Jimmy Kimmel Live how he was working with Justin Timberlake on his debut solo album when the king of pop called and he thought it was someone playing a joke on him.
Pharrell, 41, revealed: "We're in the studio and they're like there's a call for you on line one, I pick up 'Who is this?' 'It's Michael Jackson.' 'What?!' Click! Second time, 'Pharrell, it's Michael Jackson'. I'm like, 'Come on, we don't have time for this, we're right in the middle of a song. Come on dude.'
"Third time, 'It's really Michael Jackson'. So I pick up the phone and he's like 'Hello, how are you? It's Michael,' Crunch crunch crunch - eating popcorn in my ear and that's when I knew it was him!"
When he realised his mistake, the Get Lucky star tried to make amends.
He revealed he gushed: "'I'm such a huge fan,' and he's like 'How's it going with Justin, is he good?'
After Pharrell replied "Yes sir," the late singer said, "That's good, that's amazing. Cool. Well, have a good time, see you later."
He exclaimed: "That was the king, the king eating popcorn in my ear!"
Michael Jackson's enormous fame and high-pitched voice meant Pharrell is not the only person to have hung up on him. Will.i.am and Ne-Yo have both recalled similar experiences with the pop legend.
Source: music.uk.msn.com
Added automatically
890 views