News
Audiences 'want feel-good musicals'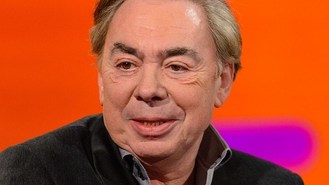 Andrew Lloyd Webber has suggested his West End show Stephen Ward closed within a few months because the public are only interested in "feel good" musicals.
Lloyd Webber, who has written the music for a string of popular shows over the decades, said he wondered whether the hit song from his acclaimed production Evita would have been a success with today's audiences.
Stephen Ward, a show based around the 1960s' Profumo sex and spies scandal, closed early this year following disappointing ticket sales.
Lloyd Webber's comments came as he and other outstanding figures from Britain's musical life were honoured by the Prince of Wales at the Royal College of Music's annual awards ceremony.
Charles presented Lloyd Webber, who was made a life peer in 1997, with an honorary doctorate, while violinist Nicola Benedetti, a popular musician with orchestras across the globe, was awarded a fellowship of the Royal College of Music (RCM).
The West End composer, speaking about his show closing early, said: "I think the truth of this is that the public is going for feel-good shows."
He went on to comment about his musical Evita, which dramatises the life of Argentine political figure Eva Peron, and the hit song from the show Don't Cry For Me Argentina.
The composer, who spoke after the ceremony held at the College's Amaryllis Fleming concert hall in central London, said: "I sometimes wonder whether a musical about the life of an Argentine dictator, with a song which is six minutes long with an accompaniment by the London Philharmonic Orchestra would have made number one in the charts nowadays - I think probably not.
"It's so hard to tell - everything actually, you know, in the end is about zeitgeist.
"If you think back, Chicago when it opened was a total disaster, it opened in the same season as A Chorus Line, (it was) forgotten, gone.
"And then revived 20 years later and that's the production that today probably if you ask someone which was the big musical of 1970-something they will say Chicago, and it was A Chorus Line."
The composer said of receiving the honorary doctorate: "I am overwhelmed to receive this award from the Royal College of Music, an historic British institution with close links to my family.
"My father, William Lloyd Webber, won a scholarship to the college as a young man and later went on to become a professor. This year would have marked his centenary year. My mother was a student at the college when she met my father and she went on to teach in the College's Junior Department. My brother, Julian, and I also had the privilege of studying at the college and both he and I share happy memories of our time there."
Lloyd Webber was asked about his views on Take That singer Gary Barlow and two other bandmates who have been ordered to pay millions of pounds in tax dodged through an avoidance scheme.
He said he did not know the details of the case but added: "I would have thought they're musicians not accountants" and speaking generally added you "just do what you're advised".
Source: music.uk.msn.com
Added automatically
885 views