News
Sambora hopes song helps addicts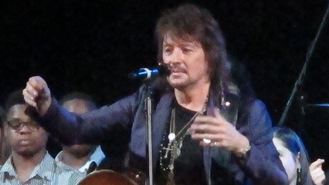 Bon Jovi guitarist Richie Sambora has revealed he drew on his own past when he debuted a song at a forum on drug abuse.
The star unveiled a track he wrote called Lighthouse - which is about providing hope to people mired in addiction - at the event at a high school arena in New Jersey, which was aimed at raising awareness about the abuse of heroin and prescription painkillers along the Jersey shore.
A New Jersey native, Sambora acknowledged he once abused drugs, but said he's clean now.
"I got firsthand experience," he told reporters. "I never did heroin but obviously I did other stuff."
He originally titled the song Needles On The Shore, but decided to change the name.
"I wanted to do something optimistic, a beacon of light and hope," he said. "Everyone needs that light when they're far off the shore."
The star told the crowd that he was as scared as the other parents who packed the arena.
"I'm mostly here as the father of a 16-year-old girl," said Sambora. "I'm scared ... But we can't be scared silent. Together we can make a difference because this epidemic has to stop."
Lighthouse will be sold on iTunes, with proceeds going toward a drug treatment facility envisioned for somewhere in the region, Sambora said.
The rocker said drugs had nothing to do with his departure from Bon Jovi last year. He said the band tried to do too much too soon and he needed a break from the pace.
"It was my family," he said. "We've been doing this for over 30 years. I'm the guy who wrote these songs, who co-produced the records. We would tour for 12 to 18-and-a-half months. My last tour was 52 countries ... You realise you miss a lot of life."
Sambora said he expects to rejoin Bon Jovi but has no time frame.
Source: music.uk.msn.com
Added automatically
1011 views