News
Lady Gaga: Tony Bennett saved me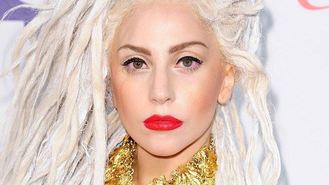 Lady Gaga has said Tony Bennett "saved her life" when she was so fed up she wanted to quit singing.
The Applause star - who has teamed up with crooner Tony for an album of duets - said she got to the stage where she felt she could hardly trust anybody and was "so sad" and down that she thought about quitting.
She told Parade: "I'm not going to say any names, but people get irrational when it comes to money - with how they treat you, with what they expect from you...
"But if you help an artist, it doesn't give you the right, once the artist is big, to take advantage of them ... I was so sad. I couldn't sleep. I felt dead.
"And then I spent a lot of time with Tony. He wanted nothing but my friendship and my voice."
The 28-year-old said that earlier this year she "didn't even want to sing any more" but T ony, 88, helped convince her to carry on.
Gaga explained: "The other day, Tony said, 'I've never once in my career not wanted to do this.' It stung. Six months ago I didn't feel that way.
"I tell Tony every day that he saved my life."
Gaga also told how she kept getting emotional when she recorded jazz classic Lush Life, one of the songs on their album Cheek To Cheek.
"When I sang it for the first time in 15 years, I started crying. I came into the control room, had my whiskey, and Tony held me and I cried in his arms.
"I kept saying, 'Am I a mess, Tony? I don't want to be a mess. I want to make you proud.' He said, 'No, you're not a mess. You're a sophisticated lady'."
Source: music.uk.msn.com
Added by AutoAdmin
559 views