News
Jackson song on new Queen release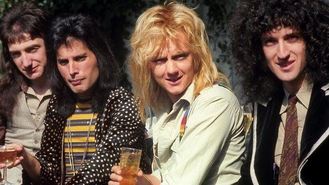 Three previously unreleased tracks by rock band Queen, including one which sees singer Freddie Mercury duetting with Michael Jackson, are to finally see the light of day.
The band's guitarist Brian May and drummer Roger Taylor, who have continued to tour and record as Queen with guest singers, revealed earlier this year that material featuring late frontman Mercury was in the pipeline.
Now they have announced the tracks will feature on a collection of the band's love songs which will come out in November.
The Jackson track, There Must Be More To Life Than This, was originally written while Queen were working on sessions for their Hot Space album in 1981 but after recording the backing track it was left incomplete.
Mercury went on to visit Jackson and record his vocals but despite again working on the song for 1984 album The Works, Queen never finished it and it was released as a solo effort by Mercury for his Mr Bad Guy album the following year.
Producer William Orbit, famed for his work with Madonna, said that having the chance to work on the unfinished material was like being handed "a trove of delights provided by the greatest of musicians".
"Hearing Michael Jackson's vocals was stirring. So vivid, so cool, and poignant, it was like he was in the studio singing live. With Freddie's vocal solo on the mixing desk, my appreciation for his gift was taken to an even higher level."
Mercury died in 1991 at the age of 45, while Jackson died in 2009 aged 50.
Also on the new Queen Forever album is Let Me In Your Heart Again, again recorded for The Works but until now it had never been completed. May has recorded new guitar parts.
The trio of songs is completed by a full band version of the song Love Kills, a version of which provided Mercury with a top 10 hit when he recorded it with the electronic music producer Giorgio Moroder.
Other tracks to feature on the new album include You're My Best Friend, Crazy Little Thing Called Love and Too Much Love Will Kill You.
Source: music.uk.msn.com
Added by AutoAdmin
591 views