News
Suki Waterhouse launching music career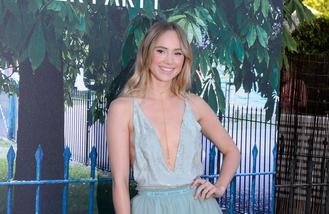 Suki Waterhouse is launching a music career.
The 23-year-old 'Insurgent' actress has revealed she is planning on trying her hand as a popstar having already conquered the realms of fashion, movies and modelling.
She revealed: ''I'm working on a music project that I work on all the time by myself.''
The star - who split from actor Bradley Cooper earlier this year - is not keen to collaborate with other musicians, saying she works ''by herself'', but admitted she's excited about releasing her tunes because it's more ''personal'' than anything she's ever done before.
She explained to Vogue.co.uk: ''It's singing and I will definitely put something out. It's a really important outlet for me as it's bare - it's not for other people, with other people's impressions put on you, or wearing other people's clothes. There is real imagination for me in music. One song will make someone feel something about a man, and it will make someone else think about their dead dog. It's personal.''
Back in October, the blonde beauty - who counts Harry Styles and Cara Delevingne among her pals - showed off her musical ability on stage at a UNICEF Halloween ball in London to duet with Bryan Adams on his track 'When You're Gone'.
Source: www.msn.com
Added automatically
789 views