News
Naughty Boy thought Zayn Malik tweet was hoax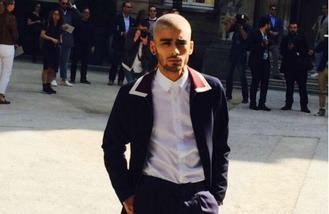 Naughty Boy thought Zayn Malik was hacked when he sent him an angry tweet.
The former One Direction singer tweeted his friend and producer calling him a "fat joke" and Naughty Boy admitted once he found out it was real, he was quite upset.
He told Fuse.tv: "I can deal with what he said but he knows the hate I've had to endure for him is the bit that upset me. That's not how I know Zayn to speak, even face to face. I definitely thought at first that he had been hacked."
Zayn originally wrote: "@NaughtyBoyMusic you fat joke stop pretending we're friends no one knows you.
"Someone learned how to upload a video... maybe now he should learn how to use logic ha you ain't s*** but a faker (sic)."
The messages were thought to refer to the snippet of a music video Zayn shot with Krept & Konan for his cover of 'No Type' which he reportedly believed Naughty Boy leaked.
Naughty Boy - whose real name is Shahid Khan - also hit out at Zayn for insulting his physique, saying he should know better because he has young fans.
He said: "The fat joke thing wasn't necessary and he's getting a lot of backlash for that because a lot of his fans don't look like Selena Gomez. At some point as an artist you have to take responsibility for everything you say. That's why I think Zayn did it out of anger."
Source: www.msn.com
Added automatically
857 views